COPPER CANYON FOR THE INDEPENDENT TRAVELER
By Dottie Atwater



Located in the mountains of northwestern Mexico, the Copper Canyon area is actually a series of six massive gorges - a vast maze four times larger and 280 feet deeper than the Grand Canyon. To be in the midst of its awesome grandeur is nothing less than a spiritual experience.

The Chihuahua al Pacifico railroad, completed in 1961, offers accessibility to a small number of the spectacular chasms. However, the train travels well back of the rim, giving few glimpses into the canyons themselves. To truly experience the magnificence of this remote wilderness, you must get off the train for several days and descend into the heart of the rugged canyon depths.

I made the excursion to the Copper Canyon area in December of 1997. It was a grand adventure, enhanced by the fact that I made no advance reservations (other than my plane tickets). I had, however, gotten information on the Internet and had a general idea of my schedule and the hotels I might choose.

I've come to love the adventure of traveling alone and traveling cheap. Relatively cheap anyway. I eat simply but well. I like a room to myself. I don't hunt for the very cheapest accommodations and transportation, nor do I tolerate shared bathrooms. Even so, traveling as I did you can (excluding airfare) have a wonderful 10-day Copper Canyon excursion for less than $400. Here are the nuts and bolts:

I flew to El Paso, Texas, then crossed the border into Juarez, Mexico by bus. I continued by bus from Juarez to Chihuahua, and then took the train to Creel, which is a popular "jumping-off" place to visit the canyon depths.

In El Paso I stayed one night at La Hacienda Airport Inn, 915-772-4231, about $47 including tax for a single room with a AAA discount. They have a free airport shuttle, and more importantly, free transportation to the Greyhound station for the bus trip across the border to Juarez. (I was told a taxi costs $30.)

Plan to be at the Greyhound station by about 8:30 a.m. The bus departs every hour and a half…unless it is late...and the fare is $5. Remember that El Paso is on Mountain Time, and just across the border, the time is an hour later because Juarez is on Central Time. The trip itself takes only about half an hour.

Just across the bridge into Mexico, the bus will stop at immigration. Go inside the building and get your tourist card validated. (Best to pick up one in advance from AAA or a travel agency and have it already filled out.) Reboard the bus, which will continue on to the main terminal in Juarez. You might be able to buy your ticket for Chihuahua on the bus. Otherwise, go inside the terminal and take your pick of numerous bus companies, with departures for Chihuahua every half-hour. The first-class buses have bathrooms and all cost about $18. I rode Transportes Chihuahuenses.

On the bus, I chatted with my seat companion. He works in El Paso, but was on his way to Chihuahua to visit his ex-wife and his children. I didn't have a hotel reservation in Chihuahua but I had an idea from the internet. From the bus station, my companion insisted on paying for a taxi to my proposed hotel. In his opinion, it was too "old." (It probably would have suited me just fine.)

He then took me to the Hotel El Dorado. I invited him to return for dinner in gratitude for his help. He accepted but called later to say his children had made plans for him. (People are wonderful and helpful, no matter where you are in the world.)

If you have time, Chihuahua is worth exploring for a couple of days. I stayed two nights at the Hotel El Dorado (a Days Inn) at Calle 14a and Julian Carrillo, $26 a night for a single ($30 for a double), including the 17 percent tax. A taxi from the bus station is about 20 pesos, less than $3. The room was quite comfortable, but if you are a light sleeper, request an interior room; traffic noise can be loud in the rooms facing the street.

From Chihuahua, I took the first-class train to Creel. It departs daily at 7:00 a.m. Be at the CHP train station at 6:00 to buy your ticket, or even better, visit the train station between 6:00 and 10:00 a.m. the day before your departure to buy the ticket. I planned to travel the entire 406 miles from Chihuahua to Los Mochis near the Pacific coast, with a stop-off in Creel. My train ticket cost $58, which included a 25 percent surcharge that allowed me to get off at Creel and reboard the train at a later date. In retrospect, it would have been cheaper (and no problem) to buy a ticket only to Creel, and a few days later buy one from Creel to Los Mochis. (There is also bus service between Chihuahua and Creel.)

If you'll return to Chihuahua from Creel, just buy a one-way ticket to Creel. For the return you might choose to travel by bus. Or if you return by train, just hop on and the conductor will sell you a ticket when you're underway.

Leaving Chihuahua, the train runs first through open plains and rolling hills. The first stop is Cuauhtemoc, established by Canadian Mennonites in 1921. The area is noted for some of Mexico's best apple orchards and its fine white cheddar cheese.

The altitude increases en route and about five hours from Chihuahua you arrive in Creel at an elevation of 7,708 feet. The small frontier logging village is a popular stop-over point for exploration of the region's waterfalls, alpine forests, hot springs, and native villages. From here, travelers can also venture by bus to Batopilas, about 80 miles from Creel and almost 6,000 feet in the depths of a remote canyon.

As I stepped off the train at Creel, I was able to understand a youngster who asked me if I wanted to go to Margarita's. "Sí," I replied, as Margarita's was a hotel on my list of possibilities. He grabbed my duffel bag and off we went. My room had its own bath and was quite nice for the price 150 pesos a day (less than $19), breakfast and dinner included. Margarita's was home to many young people, as she also offers dorm accommodations for less than $4 a day including two meals. The meals, which were served at a big table, provided a wonderful opportunity to meet other travelers. The first night at dinner we had eleven nationalities represented.

With several of my new friends from Margarita's, I made the strenuous hike to Rocohuata Hot Springs in the bottom of 1,500-foot deep Tararecua Canyon. It's a 45-minute drive to the canyon rim. The guide who drove us there and then waited to drive us back to Creel charged 60 pesos each, or about $7.50. The hike down over a narrow path with many switchbacks, sometimes treacherous from loose rocks and gravel, took an hour. At the bottom we could relax in the soothing hot waters. The hike back up took almost two hours with many brief stops to catch our breath.

Whether by local tour vehicles or hiking, interesting attractions abound with Creel as your base. San Ignacio Mission is a short walk to the south. The Valley of the Monks, about six miles from Creel, is a stunning valley of free-standing rock spires. Lake Arereco is a beautiful mountain lake nearby. Drive to the area of Cusarare Falls, and then hike about 45 minutes to the 100-foot falls themselves over a well-maintained trail.

From Creel, I left by bus at 6:00 a.m. for the 80-mile trip to Batopilas, formerly the site of the world's richest silver mine. Each one-way bus fare is 80 pesos, or $10. The bus departs for Batopilas every other day, and makes the return trip to Creel on alternate days.

Batopilas began to boom in the 1740s and local legend says its cobblestone streets were once paved with silver. It is inaccessible except for one narrow gravel road that plunges almost 6,000 feet to the canyon floor via an incredible set of switchbacks clinging to the side of the canyon for mile after breathtaking mile.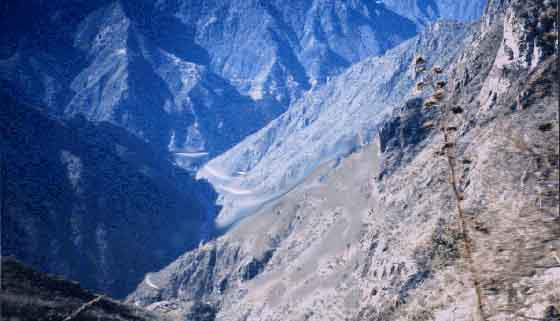 The bus trip to the bottom of the canyon takes seven or eight hours. Batopilas (population 1,150) occupies one single, narrow street along the river with towering canyon walls rearing up in all directions. Temperatures are some 30 degrees warmer than at the top of the canyon and you find that forests of cactus have replaced stands of pine. With near tropical weather in the winter, the summer months are said to be almost unbearably hot and humid. (In the picture you can barely see the white streaks, which are the switchbacks of the road that we would eventually reach on our downward journey.)

The mysterious Tarahumara Indians, who number about 40,000 and are the second largest indigenous group of native Americans on the continent, inhabit caves throughout the area of the canyons. Most of these peaceful, reclusive people speak only their own language, not Spanish. They are known as powerful runners and are said to be able to run a deer to exhaustion.

Several new friends from Margarita's and I stayed at Hotel Batopilas. I didn't have reservations and a room was not available. But a young man I spoke with on the trip down--a teacher going to check the schools--gave his reservation me me. (Again, wonderful people are everywhere. This young man ended up sleeping on a cot in a small room.)
My room with bath was $5 a night. No, that's not a misprint--$ 5! It was very basic, but comfortable enough. As is usual in Batopilas, ask the hotel owner to light the water heater about an hour before you want a shower. Most hotels are similar and the number of rooms are limited.

If you prefer more luxury at still a reasonable price, you might want to make an advance reservation at the newer Casa Real de la Mina. It's very nice and I hear that they do honor their reservations - unusual in this remote area where most succumb to the first person who shows up with cash. They quoted about $23 for a single, $25 for a double. The phone number is (91-145) 6-06 32. If you don't speak Spanish, ask someone who does to make the call for you, as you're unlikely to find anyone by phone who speaks English.
Two of my new-found buddies, young German guys, went to visit the "upscale" hotel. We were dressed as usual in jeans, T-shirts, and hiking boots. We asked to see a room. The manager was very snooty and said we'd have to pay for a room before we could see it. We asked how we'd know if the room was acceptable without paying first. As we left and walked down the dirt street from the hotel, we all laughed hysterically.
Places to eat in Batopilas are limited, too. The patio at the Hotel Mary has good food but slow service. (Who cares? Here you don't need to be in a hurry.) Dona Mica serves wonderful meals on her front porch. Ask directions to her house and make reservations in advance to eat whatever she cooks that day. (It's to the right just past Casa Morales, a little store that gives good exchange rates for dollars to pesos.) There's also the Swinging Bridge Restaurant and Carolina's, neither of which I tried.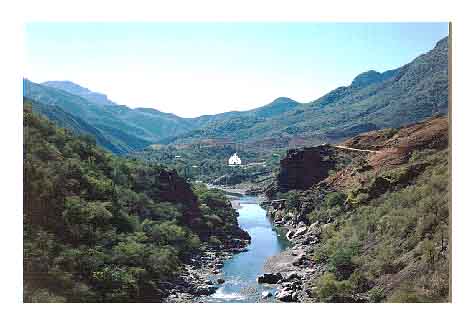 In Batopilas, we took a magnificent two-hour hike along the river to the Lost Cathedral of Satevó, a 400-year-old cathedral constructed in the likeness of the great cathedrals of Europe. No records exist about who built it or why. Burnt candles on the stone floor show it's still in use. I took the picture along the hike. You can barely see the cathedral on a hill above the river.


Another day, a short hike took us to the ruins of the Hacienda San Miguel. Here are the remains of the lavish gothic-style mansion built by in 1880 by Alexander Shepherd, owner of the Batopilas Mining Company. Billions in silver left on the backs of mules for the five-day trip over a narrow, winding path. The mines made Batopilas one of Mexico's wealthiest cities in those days.

A tropical riverside oasis, Batopilas is a haven for ecological, cultural, and historic exploration. It's wise to plan at least three days here.



When you're ready to return to Creel, the bus leaves at 5:00 a.m. You'll arrive about 1:00 p.m. and could get a bus to Chihuahua that afternoon. However, it's more relaxing to spend another night in Creel and take your choice of the bus or train the next day.

Copper Canyon will be enjoyed by anyone with a sense of adventure and a reasonable level of fitness. I recommend staying four or five nights in Creel and a minimum of three nights in Batopilas. When to go? Almost any time of the year, except I'd avoid the canyon depths in the summer. Batopilas in the winter is wonderful. Winter days in Creel at the canyon rim are usually sunny with temperatures in the 60s to 70s, but nights can reach the low teens. There can be short stretches of snow from December through February. (When I was there in December, we did have snow in Creel for a couple of days.) During the fall, you'll find almost perfect temperatures in both Batopilas and Creel.

Go! Partake of the magic!



Copyright 1998 * Dottie Atwater
---
Go back to my HOME PAGE.