We left Houston on 10/27/01. The only "have to" was that we reached Nashville by the morning of Nov. 3rd, where Harry would attend a seminar for the week end.
We spent the first night at a motel in Tuscaloosa, Alabama. The weather was cold, probably below freezing. The next day, 10/28, as we got into Tennessee we started seeing the many signs urging us to see ROCK CITY. This is advertised as being naturally formed "streets and avenues." In 1936 the owner began a barn roof advertising campaign to lure vacationers from the highways. By the 1950s, "See Rock City" was painted on 900 barn roofs from Michigan to Texas.
There were indeed some huge rocks and interesting views - but much of the "attraction" was also man-made. We later found that the hikes we did in the mountains later (for free, or a dollar or two parking fee at the trailhead) were much more enjoyable. (Fewer people, too - we value our solitude.) One point at Rock City claimed visitors could view 7 states from there - and had a sign pointing the way.
---
Picture on the right - Arrows point the way: 1/2 mile to TN; 120 miles to KY, VA; 50 miles to NC; 80 miles to SC; unreported mileage to GA but it's close; and 25 miles to AL.
---
Click for more pictures and information about Lookout Mountain and Rock City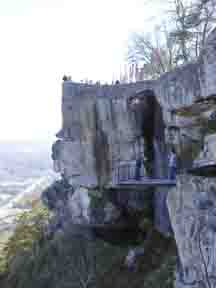 Above you can barely see the people on the ledge about midway; then the tiny figures at the top of the rock. The valley is below.